Asus, after the continuous success in recent years with its Zenfone series has recently launched a budget phone under the same series. The new Asus Zenfone C Is now a big competition for budget phones like Moto E and Redmi 1S not only because of cutting edge price but also because of its jaw dropping specs. If you haven't heard about it yet then read this review to see, whether it is made for you or not.
SIZE AND DESIGN
When it comes to size, the Zenfone C is the 10.9 mm and the Moto e is just a little bit more thick than it. But when it comes to weight both Moto E and Asus Zenfone C have similar weight at 142 g and 149 g respectively.
DISPLAY
The Zenfone doesn't offer a great display but it is surely better than that of Moto E. In terms of display, it stands in the middle between the Redmi1S and Moto E. It has a 4.5 inch display with 480×854 pixels with the density of 218ppi. Whereas Moto e offers has small screen at 4.3 inch with a resolution of 480×854 pixels                  (218ppi). The Zenfone offers a better screen than both of them.
PROCESSOR AND RAM
Unlike most Smart phones, Asus doesn't depend upon snapdragon processors and this new Zenfone C is no exception as it is also powered by Intel's Dual- Core Clovertrail processor, clocked at 1.2 GHz. The great processor is backed up by mammoth RAM capacity of 1 GB. Zenfone offers a high optimization between the processor and RAM.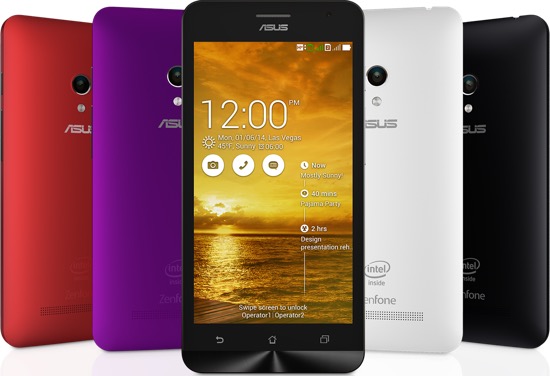 STORAGE
Zenfone is in a win-win situation as it has 8GB internal memory. This internal memory makes the overall performance a butterly experience. It also has provision for the expandable memory.
CAMERA
Zenfone C has a 5 megapixel primary camera with a LED flash, along with that it also has a front VGA camera. It is better than Moto E but inferior as compare to the 8 Megapixel front camera and 1.2 megapixel back camera of Redmi 1S
PRICE
The Taiwanese company first launched it in Malaysia and the in India. In Malaysia its price is a bit higher as compare to its Indian price. But due to cut throat competition from Moto E and Redmi 1, Zenfone had to cut its price and hence now priced equal to the Moto E, Redmi 1S at 5,999. Like Moto E, it is available on flipkart but without any flash sale.
CONCLUSION
The entry from Asus in mid budget segment will definitely going to make competition hot and explosive.